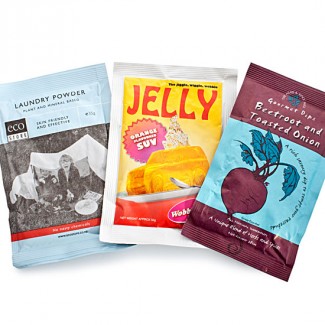 Sachets - Dry Powder
Examples of dry powder might be anything from chocolate drink powders, to soup mixes or instant coffee whether free flowing or not free flowing.
We have an extensive range of sachet packaging machinery ideally suited to all types of powders or small granules consistencies, both in food or non-food grades.  Specializing in 1gm sachets all the way up to 1.5kg depending on bulk density, we can produce in 3-side seal, 4-side seal or pillow pack format sachets. 
In addition to packing the sachets we can also print the packaging film in-house allowing for smaller run sizes and faster turn-around.  Our dry blending facility also allows us to help with blending of your product and ingredient sourcing from our vast array of contacts if required.
Once packed, sachets can be supplied in bulk form, or can then be put directly into retail packs and outers ready for sale.  We can carton glue or pack into sealed outer pouches.  All sachets and outer packaging can be batch coded.
Product Code:
Quantity per carton: